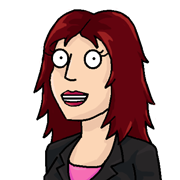 Sarah Ingledew
Who am I?
I'm Sarah Ingledew, I'm a 19 year old student from Middlesbrough but I'm currently living at University in Sunderland.
What I do?
I do freelance graphic design work for DVG Webdesign. They usually ask me to help with the design of web buttons and for help designing logos for companies who request a complete site design from scratch.
My experience?
I have been drawing with various medias for my whole life and I never go too long without a pencil in my hand. I've always been big on traditional media but lately I've started working a lot with the digital medias. I am currently a student at the University of Sunderland where I study 3D Design Innovation. I have also obtained two A levels in art; Fine art and Textiles.
Contact me?
Feel free, you can reach me at sarah@dvgwebdesign.co.uk or alternatively there are other contact details on the Contact page.