Got an Idea?
We can turn your web design ideas into reality
Got a rough idea what you want your site to look like? Excellent. Just get a piece of paper and draw it. Make notes on colour scemes and things like that and send it into us, either by scanning it in and emailing it to us or by posting it to our snail mail address. We should be able to closely replicate what you've come up with.
Examples:
This basic image is the rough sketch Maddie came up with that eventually turned into our old website: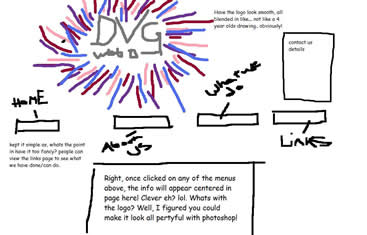 Please feel free to click on the image for a larger view (this should open up in a new window. This might not work if you have a pop up blocker enabled. In order to counteract this, hold the Ctrl key whilst clicking to open up the new window).